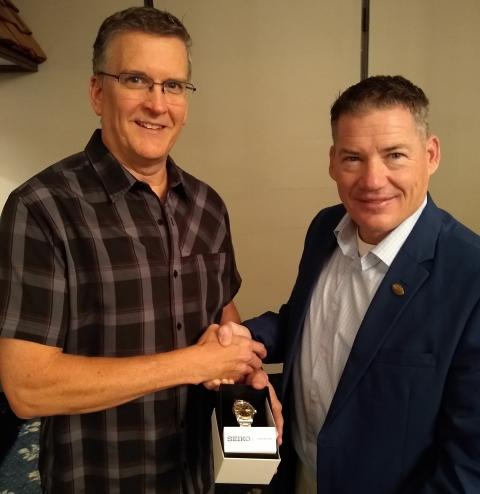 Ron Esh, a 19-year official, was named the 2022 winner of the McMillan-Hurst Award presented by the Lancaster Chapter of PIAA Football Officials to its top official.
The award has been given annually since 1961 to an official who demonstrates good officiating techniques, has a good understanding of the rules and has helped improve the caliber of officiating in the Lancaster-Lebanon League. It is named in honor of Ken McMillan and H. Grant "Tick" Hurst, winner of the George W. Kirchner Award in 1987.
Kilmoyer, chapter rules interpreter and last year's award winner, said he was impressed with Esh's involvement with the rules and called him an exceptional official who demonstrates the highest standards, Esh has been a head linesman most of his career but has switched to referee in the past three years. He is the organization's incoming vice president, a post which typically leads to the president's role the following year.
Esh, left in photo, received the award from Kilmoyer at the chapter's annual banquet.
-- Nov. 8, 2022
2021 McMillan-Hurst Award winner