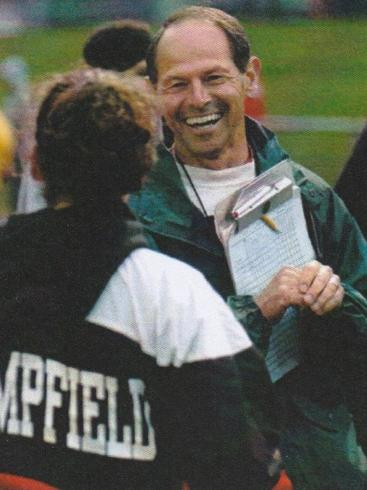 2017
George W. Kirchner Award
Bill Bowers began his Hempfield boys' track and field coaching career in 1972, holding that role until 2003 and winning 545 dual meets, four Lancaster-Lebanon League meets, three District Three titles and had a pair of PIAA runner-up finishes. He coached four individual league champs, two district champs and three runners who finished in the top five at states.
Bowers took over the reins of the girls' track and field team in 1976 with the first of two stints running until 1988 and the second from 1998-2004.
Bowers was a combined 198-32-2 in dual meets as the head girls' track coach. His teams claimed 10 L-L Meet titles, two District Three titles and had a second- and third-place finish at states.
Bowers' girls' cross country teams won 376 dual meets, nine L-L meet titles and a pair of district titles. His teams finished in the top 10 at states five times. He coached six individual league champs, one district champ and five runners who finished in the top 20 at states.
As a student-athlete, Bowers started running cross country as a junior at McCaskey. He was also a half-miler for the Red Tornado and ran in the mile and two-mile relay, the latter at the Penn Relays as a senior.
Bowers became Millersville's No. 1 quarter-miler as a sophomore and stayed in that position for three years. He lowered his personal best from a 51.7 as a freshman to a 50.0 as a senior, improving every year. He was among the first Millersville runners to medal at the Penn Relays. He anchored a mile relay team that finished second once and third twice at the Pennsylvania State Colleges meet.
Bowers claimed the inaugural Joe Wilt Award as outstanding track man as a senior at Millersville in 1969.