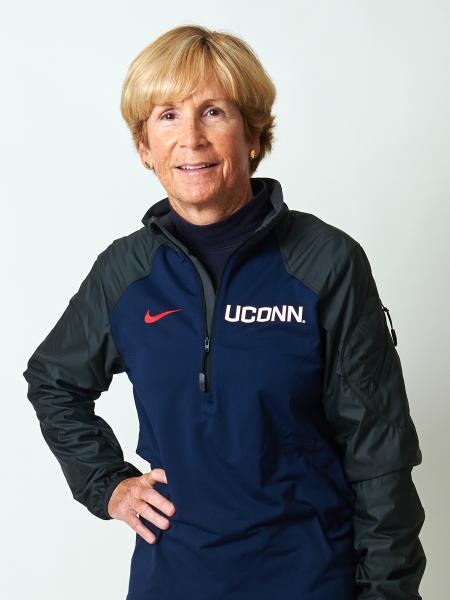 2021
George W. Kirchner Award
Nancy Stevens, the only coach in NCAA field hockey to reach 700 wins, led the University of Connecticut to three national championships (2013, 2014 and 2017). During 30 years of coaching there, she compiled a record of 520-139-8, .779 win percentage. Her overall record in 41 seasons is 700-189-24, .766 winning percentage.
After graduating from Manheim Central High School in 1972, Stevens received her bachelor's degree in education, summa cum laude, from West Chester University in 1976. She captained the 1975 field hockey team at West Chester that won the AIAW National Championship. She is a 2003 inductee into the West Chester University Hall of Fame and received the Distinguished Alumni Award in 2018.
As UConn head coach, her team appeared in 24 NCAA Tournaments, reached 18 NCAA quarterfinals, 10 NCAA semifinals, won 19 Big East Tournament titles and 19 Big East regular season titles while producing 50 first team All-Americans.  Stevens led the Huskies to a No. 1 national ranking in five different years (2018, 2017, 2016, 2015 and 1999). Under Stevens' tutelage, the Huskies reached the last 17 NCAA Tournaments and advanced to 10-consecutive NCAA Quarterfinals.
A 2007 NFHCA Hall of Fame inductee, Stevens won NFHCA National Coach of the Year honors on three occasions. She earned nine Mideast Region Coach of the Year, 13 Big East Coach of the Year awards and saw 11 of her former players don the red, white and blue with the U.S. National Team.
Before taking over at Connecticut, Stevens served as head coach at Northwestern University for nine years. She led the Wildcats to eight consecutive NCAA Division I Championship quarterfinal appearances (1982-89), three NCAA semifinal games (1983, 1985 and 1989) and four Big Ten Championships (1983, 1984, 1985 and 1988). During her final season in 1989, Stevens directed her Wildcat field hockey team to an 18-4-1 record and a third-place finish in the NCAA Championship. Her 1985 team also finished third at the NCAA Championship.
Prior to coaching at Northwestern, Stevens was head field hockey and lacrosse coach at Franklin and Marshall College for two seasons. Her 1979 F&M team placed second at the AIAW National Championship, while her 1980 team reached the quarterfinals.
She has been a part of the U.S. Field Hockey National Coaching Staff, serving in that capacity from 1982 to 1990. In 1997, she took over as coach for the U.S. under-19 National Team  named "Team of the Year" by U.S. Field Hockey. She was head coach of the U.S. Junior National Team in 1982-84, while coaching in the U.S. Olympic Developmental Program. Stevens has been a U.S. Olympic Festival head coach five
times since 1985, leading her team to a gold medal in 1986 and to a silver medal in 1985.
In 1979, she received her master's degree in sports psychology from Penn State. There, she also served as assistant field hockey and lacrosse coach in 1977-79, with the lacrosse squads winning AIAW National Championship titles in 1978 and 1979.
She retired as UConn coach in September 2020 but remains as a volunteer assistant coach.