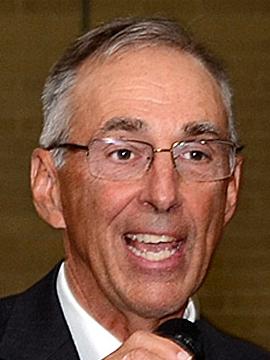 2016
George W. Kirchner Award
Jeff Bradley translated his love for running as a student-athlete into the same success as a coach. After starting his track and field coaching career at Lampeter-Strasburg and Conrad Weiser, Bradley spent eight years as a cross country assistant at Millersville, 29 seasons as Hempfield's head track and field coach and 11 seasons as a cross country assistant with the Black Knights.
As Hempfield's coach, the Black Knights posted 207 dual-meet wins to 55 losses and three ties. Hempfield won eight Lancaster-Lebanon League titles as well as 2009 District Three and PIAA crowns.
Bradley is the only Millersville cross country and track performer who has had his singlet retired. He was the 1974 winner of the Elwood J. Finley Award as the university's top male athlete.
Bradley was a two-time NAIA All-American (1972, 1973) and earned NCAA College Division All-American honors in 1972 and 1973. He finished third in both the 1971 NAIA and 1973 IC4A Championships. Bradley also captured the Pennsylvania State Athletic Conference crown his senior year ('73). He was undefeated in dual competition on Millersville's cross country campus course for four consecutive years. During his Marauder harrier career, Bradley led MU to a 37-6 dual record.
On the track, Bradley captured the 1974 PSAC three and six-mile titles. He is one of only five Marauders in team history to win two PSAC titles in the same year and he placed 39th in the 1976 Boston Marathon, and returned to Boston in '92 to place seventh in the World Masters Cross Country Championships. He is a four-time Red Rose Run winner.