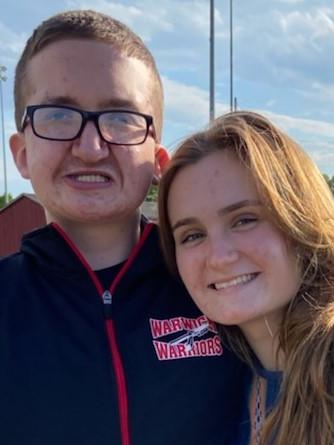 2022
LNP | LancasterOnline Inspirational Athlete of the Year
717 Sports Media podcast with Jackson and Rylee Diffenderfer
Jackson and Rylee Diffenderfer, brother and sister, have been a beaming example of passion, commitment and perseverance.
Jackson, 18, is currently a senior at Warwick High School. He is a "differently-abled" student who competes on Warwick's Unified track team.
His sister, Rylee, 20, is a 2020 Warwick graduate who now attends Rider University, where she played Division I field hockey for two seasons.
The inseparable, unconditional bond they have forged has become an inspiration to many.
Jackson has overcome more than 20 surgeries in his young lifetime, including brain surgery at age 1. His diagnosed medical conditions to date include hydrocephalus (extra fluid in the ventricles of the brain); chiari malformation (the cerebellum is positioned in the opposite way it should be); cleft palate; a kidney issue and hearing loss. The chiari malformation impacts Jackson's motor skills, such as walking and balance.
His kidneys are attached in the shape of a horseshoe, which has ruled out his playing any contact sports. He has undergone multiple tests over the years, none have been able to pinpoint Jackson's exact "condition" or "syndrome."
Nonetheless, Jackson has persevered. He competes in the 100 meters and javelin for Warwick Unified track and field. Among his biggest fans is sister Rylee.
Rylee was a senior captain for the Warwick field hockey team. She was an L-L League second team all-star in 2019 after being honorable mention in 2018. Her excellence in the classroom and community earned her one of 13 Rider University Board of Trustee Scholarships, the first Bronc field hockey player to ever receive one.
Along the way, Jackson was Rylee's biggest fan as well. Rylee has decided to stop playing field hockey and concentrate on her goal of becoming a special education teacher at the high school level. She credits Jackson for inspiring her into this field.
Rylee's blog throughjacksonseyes.com provides information on their relationship together.